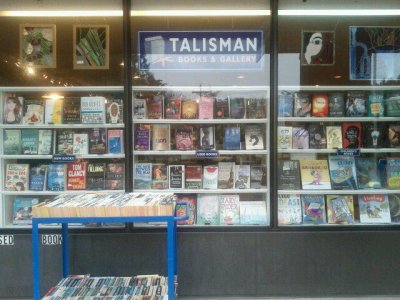 Now you can shop online and shop locally at the same time. At your fingertips are millions of titles to browse or purchase at your convenience.
Searching for Books
Search for books by keyword, title, author, ISBN, or publisher. Or browse by bestsellers, new releases, book category, or specialty lists like staff favourites. Click on a book cover for more information about that book.
Ordering Online
Create an account by clicking on the link in the top right corner of this page. Returning customers can just log in. Select books and proceed to checkout. When we receive your order, we will email confirmation and will phone or email you when your books are ready for pick-up at the store. We can also ship books almost anywhere. Payment can be made when picking up the books or by phone if we mail the books to you.
We value your privacy. All information received from you will be used exclusively for your business transactions.
Talisman Books & Gallery
Talisman is a full-service bookstore located in the Driftwood Centre on beautiful Pender Island. We offer a wide selection of fiction, non-fiction, children's books, cookbooks, used books, greeting cards, navigation charts, art from around the Salish Sea, and more!
It is our goal to offer good books and friendly service to both our regular clients and visitors to the Pender Islands.